'Al límite de la ruptura'

Exhibition of Fine Arts Awards 2023 and new artworks of Norte Collection



group show at Centro Cultural los Arenales (Cantabria, Spain)
curated by
Laura Olea López
graphic identity by
Can Lejárraga
buil-up and spatial design by
uuuuu.estudio
PARTICIPANTS
Winners:
Tomás Pizá García
Laura López Balza
Finalsts:
Ricardo González García
Ana Santamatilde Prieto
Laura Escallada Allende
Quique Ortiz Ceballos
Guido González Velasco
Néstor Del Barrio Pérez
María Villacorta Marcos
Pablo Diego Villazón
Yeyo Riancho
Norte Collection:
Elena Mendizábal
Joaquín Martínez Cano
Debbie Reda
Manuel Minch
Juana González
More info:
Press release (ES)
High quality photos
'Al límite de la ruptura' (On the verge of rupture) is an exhibition that includes the finalists of the Plastic Arts Award 2022 together with the artworks recently incorporated in the Norte Collection, acquired by the Government of Cantabria during the last edition of ArteSantander Fair.
The seventeen artists participating in the exhibition include Elena Mendizábal, Juana González, Tomás Pizá García and Laura López Balza. Painting predominates as a medium selected to express by the majority of the participants in the Award, while the works acquired from the Cantabrian galleries contribute with other formats such as sculpture and oil on photography.
CURATORIAL TEXT:
That instant when the crease becomes a wrinkle when flexibility gives way to tearing or the last drop overflows the glass.
The creative process is marked by the work and control of technique, but also by the sense of discovery, the
eureka
moment or the decisive decision in the search to push the limits.
Unlike historical and academic organisation, contemporary creation develops in the fluidity between disciplines, questioning classical formats and compositions in order not to stick to the marked contours. What unites the artist and the outsider is not the forms but their limits, where dialogues, conquests and mistakes take place.
The common ground of these twenty-three artworks is that limit. What differentiates them are the forces, traces and decisions that make up the plastic research and the artistic career of their authors. "Al límite de la ruptura" is a radiography of this frontier along which the artistic scene in Cantabria is moving today.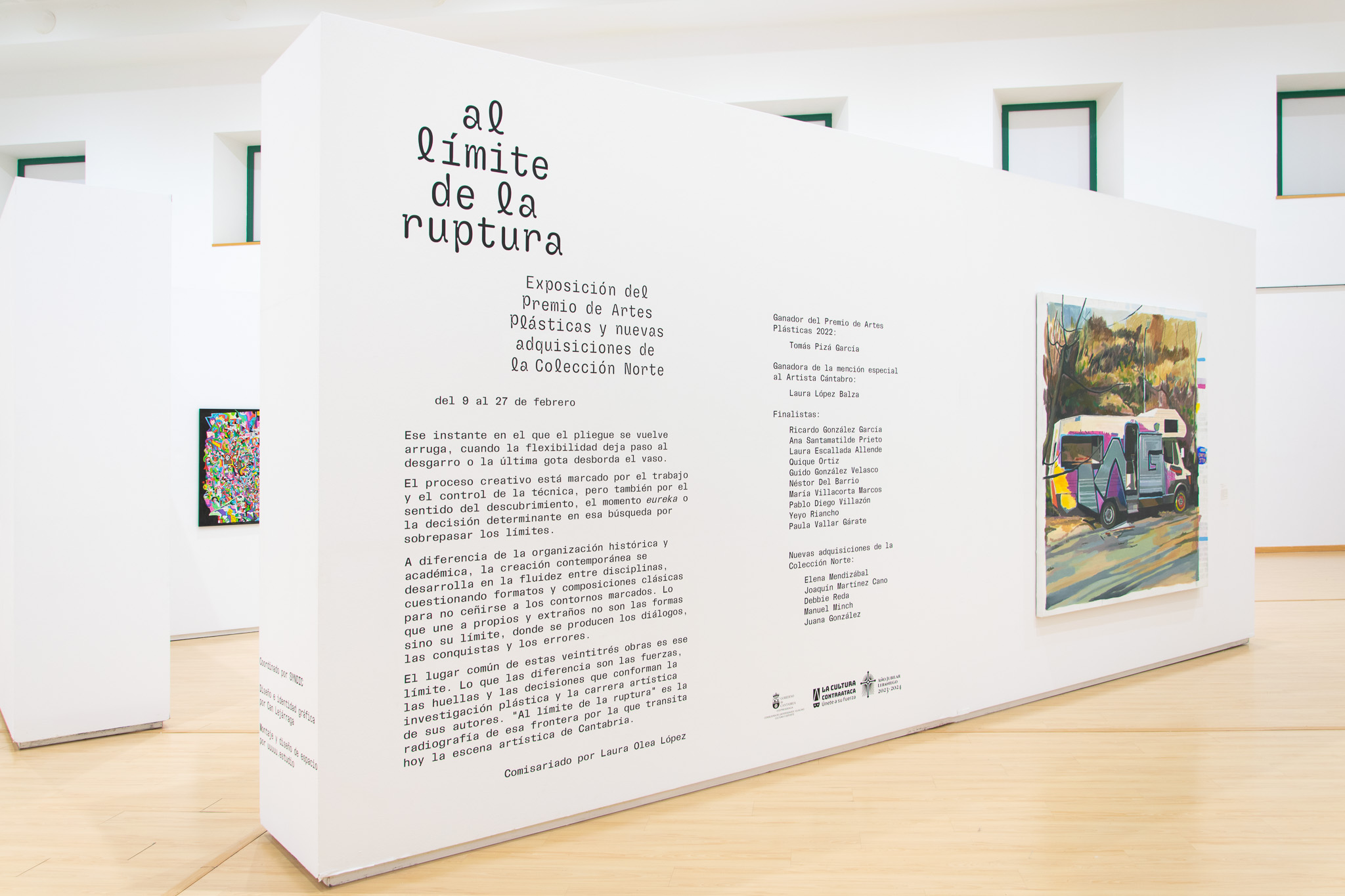 Project developed by Direccion General de Acción Cultural del Gobierno de Cantabria, coorditated by Syndic
Images of the expo 'Al límite de la ruptura':